Your generosity ensures we can continue the life-saving work we have been doing since 1945.  We are an independent non-profit organization and we rely on the support of our local community to operate.  Donations like yours are critical to our ability to save lives.
Make a difference!  Your gift will care for thousands of homeless, abandoned and abused pets that come to the Monmouth County SPCA every year.
A donation made in honor of a pet is a wonderful way to show your appreciation. A donation in memory of a person or pet can be a meaningful and heartfelt testimonial.
Please become a member of Pantry Pals by making a monthly pledge of support to help us provide healthy meals to the animals in our care.
---
Donate to the Second Chance Medical Fund and help us provide veterinary care to those who need it most. This special fund is used to cases where extensive or special medical care is essential.
---
    Donate using PayPal here.
---
By Mail
Monmouth County SPCA
260 Wall Street
Eatontown, NJ 07724
For donations in memory or honor, please remember to include the name of the person you are honoring or remembering and where the notification should be sent.
By Phone: 732-542-0040
For "Pantry Pals" changes or questions, In Honor Of or In Memory Of gifts please contact the development office at (732) 440-1556 or email [email protected]
For questions about in-kind gifts, please call 732-542-0040, option 7.
For all other questions about your gift to the MCSPCA, please contact Director of Development Barbara Lovell at (732) 440-1557 or [email protected]
All contributions are tax-deductible to the fullest extent allowable by law. So that more financial resources may be directed back to our life-saving programs for animals, the MCSPCA does not mail acknowledgement letters for gifts under $20.00 unless requested. Contact [email protected] for special letter requests. We appreciate every cent donated to our mission and your understanding of this cost saving measure.
The Monmouth County Society for the Prevention of Cruelty to Animals Tax ID is 21-0679893.
The new federal CARES Act signed into law last month provides an above-the-line deduction of $300 for cash donations to a 501c3–if individuals donate $300 to a charity/charities they can deduct that amount "off the top" from their *gross* income. This CARES Act provision applies even if individuals don't itemize on their taxes.   If you take the standard deduction on your 2020 tax return (the one that you'll file in 2021), you can claim a brand new "above-the-line" deduction of up to $300 for cash donations to charity you make this year. Donations to donor-advised funds and certain organizations that support charities are not deductible. Normally, you have to itemize on Schedule A to get a tax break for charitable donations. In this case, though, it's the other way around—if you itemize, you can't take this new deduction.
MCSPCA Donor Privacy Policy
The Monmouth County SPCA respects the privacy of our donors and maintains the highest level of privacy concerning contact and gift information. All contact information is used for internal purposes only and never shared, traded, sold or rented with any other organization. Donors' names may be published in our Annual Report unless the donor has asked that they be listed as "Anonymous".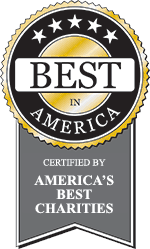 This seal of approval is a service mark of Independent Charities of America and is used under license. *The service mark will be used on MCSPCA's support and donate page only and not for additional use.