The Monmouth County SPCA is a private, not-for-profit 501(c)3 organization led by a volunteer board of trustees. We are an independent organization not affiliated with the ASPCA, HSUS or Associated Humane Societies.  The MCSPCA is also not a government agency and receives little or no funding from federal, state or local governments.  Our ability to care for the community's animals is supported solely by modest fees and donations.
All contributions are tax-deductible to the fullest extent allowable by law. We do not sell or share your personal information.
By mail, please send check to:
Monmouth County SPCA
260 Wall Street
Eatontown, NJ 07724
By phone:  732-542-0040
By email: [email protected]
Click here to make an online donation!
Click here to donate via our Amazon Wishlist!
The Monmouth County Society for the Prevention of Cruelty to Animals Tax ID is 21-0679893.
Our Mission is to protect and advocate for all animals. We are dedicated to enforcing animal cruelty laws; providing a safe haven for homeless, abused and abandoned pets while they await adoption; reducing pet over-population through spay/neutering; and cultivating their humane treatment through education and service as a valuable community resource.
Our Vision is to be established firmly with our own unique identity throughout New Jersey and the animal welfare community as a leader in all things related to animals in Monmouth County and the people who care for them. We will be responsible for ensuring that all animal abuse is prosecuted and will increase our support of campaigning for the rights of animals in New Jersey. We will be a strong partner with other animal welfare organizations throughout the state in order to develop and share best practices, and to work together to make New Jersey a place where every animal is treated with respect, kindness and love.
Help us fulfill our mission and vision to save more animals.  Please donate now.
For more information, please call 732-542-0040 or email us at [email protected]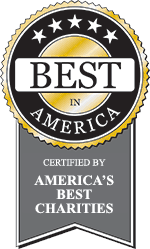 This seal of approval is a service mark of Independent Charities of America and is used under license. *The service mark will be used on MCSPCA's support and donate page only and not for additional use.